We have raised
$3,000.00
of our goal.
---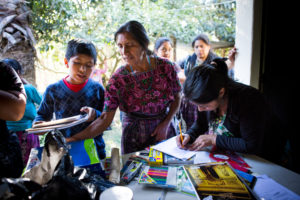 Most of us take the opportunity to have access to a middle and high school education for granted, but here in Guatemala, the education that the government requires and readily provides ends at 6th grade. While the level of elementary school enrollment generally approaches 100%, because of the lack of access and increased cost of a middle school education, the percentage of Guatemalan youth who continue their education past the 6th grade drops to below 50%.
The students in our "Becas Con Misíon" scholarship program ("beca" is the Spanish word for scholarship) are selected based both on economic need and on their grades from elementary school. Once in our scholarship program, Mission Guatemala helps to cover the costs of the following:
Inscription fees
Tuition for the year
School supplies
Uniforms
Free access to Mission Guatemala's medical clinic
To remain in the program, the the students are required to maintain a 75% average each semester.
We invite you to help make these students' dreams a reality! The average monthly cost to provide a middle school scholarship for these students is $25 a month. With a contribution of any size, you can make a difference in these students' lives!